News And Updates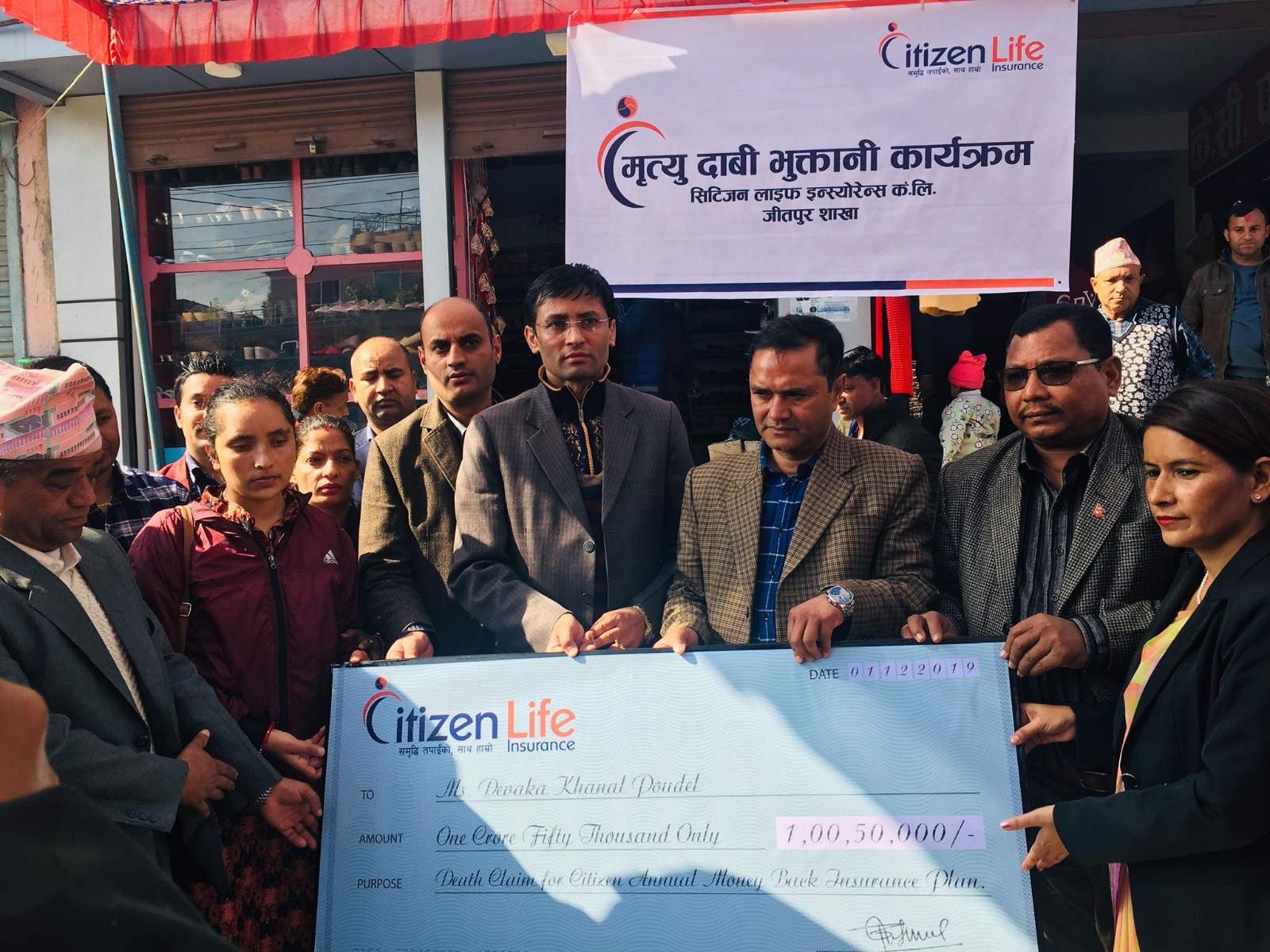 14
Dec 19
Citizen Life Insurance pays life insurance death compensation of Rs.1 Crore 50 Thousand
18th December, 2019: Citizen Life Insurance Co. Jitpur branch handed the death compensation cheque for 1 crore and 50 thousand rupees to Mrs. Devka Khanal,  wife of late Mr. Somnath Poudel, resident of Butwal, who was met with an accident at Mahendra Highway and passed away on 22nd October, 2019 at Lumbini Provincial Hospital at the age of 33 years.
Beema Samiti Chairman Mr. Chiranjivi Chapagain and Citizen Life CEO Mr. Poshak Raj Paudel jointly handed the cheque to Mrs. Khanal in presence Wanganga Municipality Mayor Mr. Mangal Prasad Chaudhary. Beema Samiti Assistant Director Mr. Padam Prasad Sodari, Jitpur Ward Chairperson, Citizen Life Chief Marketing Officer Mr. Kabi Phuyal, Chief Business Officer Mr. Sunil Pokharel, branch managers and media personalities were present in the event.
Mr. Chapagain highlighted on life insurance keeping promises by compensating monetarily to bereaved family on the unexpected loss of breadwinner in the family.  Further added, such financial compensation supports for continuing children education, healthy living and the surviving members of family will continue to live with dignity in the society. He emphasized, it is important to make aware the people in society that small and continuous savings in the life insurance would always keep oneself protected against financial crisis arising from the loss of earning member.
Mr. Paudel emphasized, Citizen Life is maintaining qualitative service to insurance policyholders, agents and stakeholders and innovative services will be made available to clients in the days to come.